School everyday
Juvenes Translatores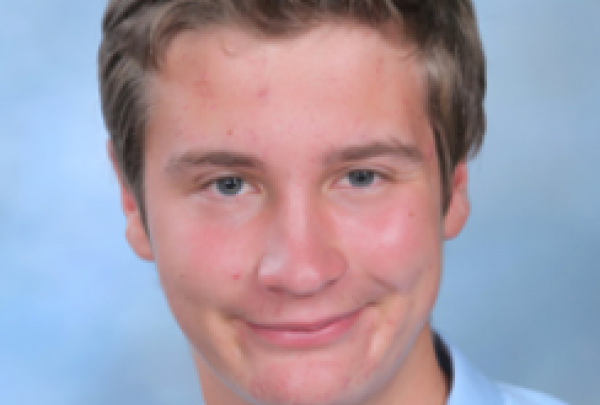 We are pleased to announce that Jan HUBEL (S7 DEA) has won the Juvenes Translatores competition in Luxembourg.
Video of the announcement of the winners
*****
Growing up in the multicultural melting pot of Luxembourg, I have been exposed to foreign languages from a very young age. Ever since I joined the European School Luxemburg II in 2008, I have been fascinated by the diversity of languages and cultures that characterise learning in a truly European environment. Now that I am in S7, I get the opportunity to analyse literature in German, French and English, but I also enjoy digging deeper into foreign languages outside of the school curriculum.
When applications opened for the 2021-22 Juvenes Translatores competition, I did not hesitate to sign up. Until this year, I had only occasionally translated short texts, but I was still eager to delve into this unknown, exciting discipline. Fortunately, the school selected me as one of its five candidates.  I opted to translate the English text into my mother tongue German. On 25 November, the wait was finally over and the contest began. In an ICT room, we were given two hours to translate a text of approximately 500 words. The English text consisted of two emails, filled with rather exotic idioms. I submitted my translation with the good feeling of having given it my best try. Nevertheless, I would have never imagined being among the 27 national winners of the competition!
Consequently, I was thunderstruck when I learned of my success. I feel honoured to be among some of the best young translators in the European Union and feel deeply grateful towards my language teachers and the school in general. Juvenes Translatores was an exceptionally rewarding experience that has allowed me to value my language skills even more. It encourages me to embrace languages in the future.
Next year, I will commence my studies at the University of Oxford, which has made me an offer to read History and Economics. My professional career is still in the great wide open. Who knows? Maybe I will look back on Juvenes Translatores one day as the starting point of a career in translation…
Während meiner Kindheit im multikulturellen Schmelztiegel Luxemburg war ich stets von Fremdsprachen umgeben. Ob auf den Straßen der Hauptstadt, im Fußballverein oder beim Bäcker um die Ecke: Überall lauschte ich fremden, aufregend klingenden Sprachen.
Seit meiner Einschulung in die Europäische Schule Luxemburg II im Jahre 2008 kam ich tagtäglich mit der sprachlichen und kulturellen Vielfalt in Berührung, die das Lernen in einem wahrhaft europäischen Umfeld ausmacht. Fast 14 Jahre später habe ich als Abiturient das Privileg, deutsche, englische und französische Literatur analysieren zu können. Ich genieße es aber auch außerhalb des Lehrplans Fremdsprachen kennenzulernen.
Als mich einer meiner Lehrer auf den Übersetzungswettbewerb Juvenes Translatores 2021-22 aufmerksam machte, zögerte ich keine Sekunde, mich anzumelden. Bisher hatte ich nur gelegentlich kurze Texte übersetzt, aber ich wollte unbedingt in diese unbekannte, spannende Disziplin eintauchen. Glücklicherweise wählte mich die Schule als einen von fünf hochmotivierten Kandidaten aus.  Ich entschied mich für die Übersetzung des englischen Textes in meine Muttersprache Deutsch. Am 25. November war das Warten endlich vorbei und der Tag der Entscheidung brach an. In einem ICT-Raum hatten wir zwei Stunden Zeit, um einen Text von etwa 500 Wörtern zu übersetzen. Ich bearbeitete zwei englische E-Mails, die mit ziemlich exotischen Redewendungen gespickt waren. Ich reichte meine Übersetzung mit dem guten Gefühl ein, mein Bestes gegeben zu haben. Dennoch hätte ich nie gedacht, dass ich zu den 27 nationalen Gewinnern des Wettbewerbs gehören würde!
Daher war ich zunächst ziemlich überwältigt, als ich von meinem Erfolg erfuhr. Ich fühle mich geehrt, zu den besten jungen Übersetzern in der Europäischen Union zu gehören und bin meinen Sprachlehrern und meiner Schule sehr dankbar für ihren Einsatz. Juvenes Translatores war eine außerordentliche, faszinierende Erfahrung, die mich meine Sprachkenntnisse noch mehr schätzen lässt und mich ermutigt, mich auch in Zukunft mit Sprachen zu beschäftigen.
Im nächsten Jahr werde ich mein Studium an der Universität Oxford beginnen, die mir ein Angebot für den Studiengang Geschichte und Ökonomie gemacht hat. Mein beruflicher Werdegang steht noch in den Sternen. Wer weiß? Vielleicht werde ich eines Tages auf Juvenes Translatores als Ausgangspunkt für eine Karriere als Übersetzer zurückblicken...